Thank you, everyone who entered my
Sew, Mama, Sew! Giveaway
! (I emailed the winner and have heard back from her already.) I had so much fun reading all your Christmas list items. I'm so happy for all of you who get to spend the holidays with family! :) I also witsh that I could help grant your wishes! I would love to send you all rulers and fabric, and sewing machines! If only, right?! I'll cross my fingers that Santa will be good to you this year. ;)
Talking about Christmas lists, and since my hubby hasn't done any Christmas shopping for me yet, here is my Christmas list. Though I'm sure I won't receive any of it. My husband says I have expensive taste, and he's probably right. oops. ;)
Non-fun, really want item:
I want a new kitchen table! I want one that seats 8, has butterfly leaves (so I don't have to find a place to store them when not using them - very important feature. VERY important.), and 8 nice chairs to go with it. A dark finish would be nice. Either black or brown - but not a red brown. We have a hand-me-down table, which I'm so grateful for, two bar stools and a folding chair. lol. :) We'll get one someday, and until then... sorry everyone that we don't invite you over for dinner! ;)
Really fun, really want item: :D
I would love a
SewEzi
table. WITH the light table insert. I first saw this table over at
Pile of Fabric
when Alyssa did a review for it. I asked her the other day and she still loves it. I think about it every time I free motion quilt something, and dream about it when I paper piece. ;) One day... (too many one days. oh well, that's ok.) :)
Some smaller(? - ha!) wants:
I've been really good at not purchasing fabric this year. (and I really want to destash a lot of what I have.) BUT there are two lines that I am going crazy for that I would LOVE to have.
Botanics by
Carolyn Friedlander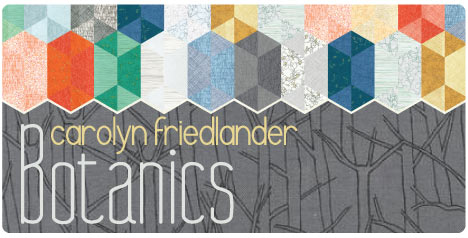 and True Colors by Anna Maria Horner
This would mix in perfectly with my Good Folks that I will be using for our bed quilt. among other things. :)
I would like both in 1 yard bundles, please! ha! (yes... expensive taste.) ok, 1/2 yards are fine too. I told my hubby I have some cued in my Etsy cart. ;)
Oh, and one last thing that has been on my wish list since summer...
A Wacom Intuos Tablet. It would make so many things I want to do so much easier... and make so many more things possible. :) Oh to dream, it's a wonderful thing. :)
smaller items:
a nice pair of black flats that I can wear to church, and elsewhere.
a nice full size tripod for our dSLR, (you know, to make it easier to do tutorials and videos and such) :)

and the free stuff:
as many of you listed, my other wish would be to have LOTS of time to quilt, sew, and finish my patterns, and blog! I have LOTS of patterns in the works, or ones that I want to make. Time for that would be nice.
AND to be able to go to the MQG meeting in January. I was going to go to the Central Florida Guild meeting last week, but there was a last minute thing at work and Neil couldn't get it off. and I couldn't go. I would be lying to say I didn't cry. lol. I've been wanting to go to a meeting, and be with other quilters, for years!
So there are two freeby things there... crossing my fingers. :) I'm sure I won't get any of this though. Neil likes to buy me things he likes, and ignores my sewing wishlist every year... he doesn't understand. And that's ok. :)

Now to go bake some cookies to giveaway. :)
Hope you are having a wonderful weekend!