Hunter finished up his first year of school a few weeks ago. He really loved preschool, and as far as I'm concerned, he did amazing! He's grown, matured, and learned so much. I'm so proud of him!! :)
Here are his first and last day pictures :)
Isn't he the cutest?!!! I love this picture!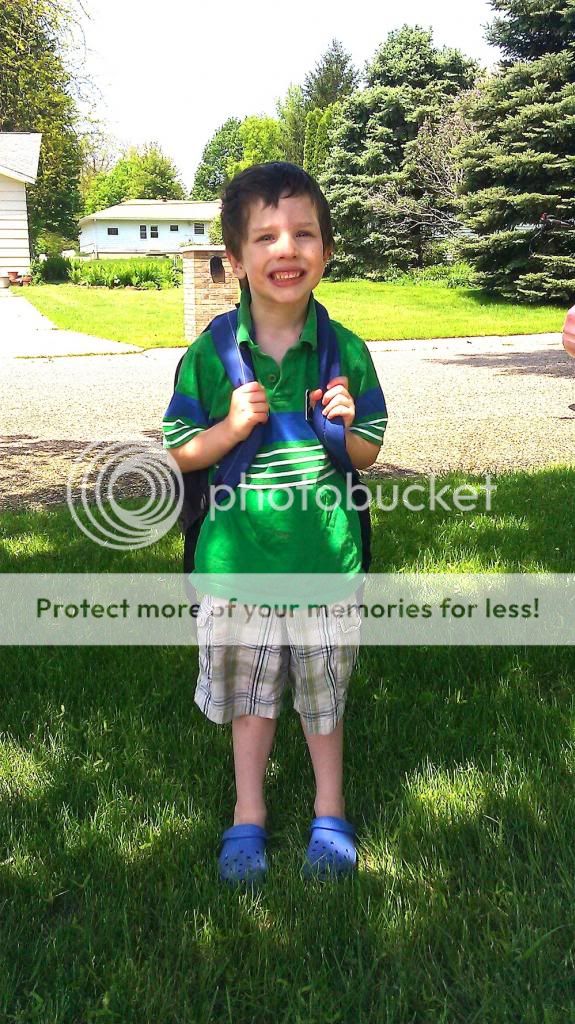 Last day of school.
He definitely looks older. (bittersweet)
I am so a last minute person. I wanted to make teacher gifts, but of course I couldn't decide on anything until his last day! Why do I do this to myself??? lol. Anyway, with a only a few hours to spare, I got started.
I decided to make each of his teachers a little coin purse. I used the same pattern that I made for the
UR Priceless blog hop
last year. I think these are so cute!! I was a little weary as to how the Denise Schmidt fabric would turn out, but Hunter really liked it so I went with it. I am so glad I did because it's my favorite!! I absolutely love it!
Front
Back
I even had some time to make some Oatmeal Craisin cookies, put them all in a clear bag and ran off to pick up Hunter and deliver them. I forgot to get pictures with them open, so you can see the inside fabric. Oh well. I sure hope they like them! (I was running late so I didn't get cute pictures of them in the bags (the purses fell over. lol.) But I tried, and I like the concept anyway. :)
Hunter actually started out the school year at a different preschool in another town. We had to stop going there for personal reasons at Christmas time, but lucked out getting him into the preschool that is just a block away. I still need to make his other teachers some gifts, they were so amazing!! And I'm still a little bummed we couldn't finish up the year there. But both schools are amazing and I can't really say that one was better. It's just how it happens. :)
So now it's summer, and things are going a lot better than I had anticipated. :) Hooray!
Did you make teacher gifts?? What did you make?
Happy Monday!!
(Can you believe I blogged again, already?!) :)