I'm so happy to be visiting with you all over here at From Blank Pages! I lovelovelove Diane's blog-she is so incredibly talented!
In case you're wondering who this girl is rambling on and on, I'm Courtney from Scraps and Scribbles.
I'm a SAHM to one busy 2-year-old boy. I've been married to my wonderful husband for just over 5 years. We live in sunny Florida, and love it. When I'm not spending time with my son or taking care of the typical housewife things like cleaning and the laundry, I like to craft, sew, cook/bake and take pictures. I'm also the creative mind behind D Squared Creations, my Etsy shop that I run with my sister-in-law where we sell our pretty creations. It's full of fun vintage finds and pretty jewelery to dress up your outfits. I love fashion and make-up and sharing what I find. If you'd like to know more about me, you can check out the About Me page over at my blog.
As I mentioned, I dabble in home decor and I love to search for fun finds at thrift stores. Here's a message board that I fixed up to serve as our family's message center/mail spot.
Not bad for a $4 Goodwill find, huh?
I also love using common materials in unexpected ways. I whipped up this orange
burlap pumpkin
for Halloween this past year.
One of my goals when I started my blog was to become better at sewing. My
Anthro-inspired ruffle tee
was one of my very endeavors and I loved it!
Boston Cream Pie
is one of my favorite desserts and this recipe makes the best one I've ever had.
Got some old mismatched silverware lying around? Use it to dress up your garden using my
Silverware Garden Marker
tutorial-they're super-easy!
One of the things I try to do, not only with my blog but also with my every day life, is to keep things simple. I made this
wreath with interchangeable embellishments
so I wouldn't have a pile of wreaths lying around.
I do a weekly segment where I share tips and tricks. One of my favorite series was the one I did on make-up (one of my passions)-you can check out my
video tutorial
on how to do up your whole face in 10 minutes.
I also do a weekly segment called Fashion Fridays where I share fun fashion finds, from trends I love to pretty clothes. And my love for
shoes
: )
Thanks so much for letting me come by today and share a bit of my blog with your lovely readers, Diane! I hope you all come by Scraps and Scribbles and say hi-I'd love to meet you!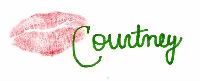 Thanks for stopping by Courtney! :) And everyone be sure to go check out
Scraps and Scribbles
... along with her
etsy shop
! She really does have some amazing stuff! :)